3 EASY WAYS TO SHOP
Fully Customizable  •  Free Delivery  •  No Membership Fees  •  Pause or Cancel Anytime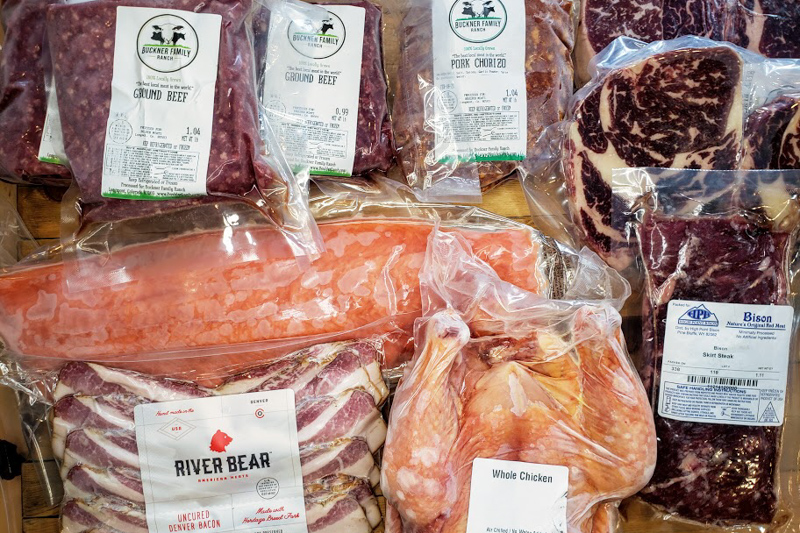 CHEF Curated Boxes
Conveniently Curated for You
No Mystery Meat Box 

First Dibs on Limited Products like Holiday Turkeys & Hams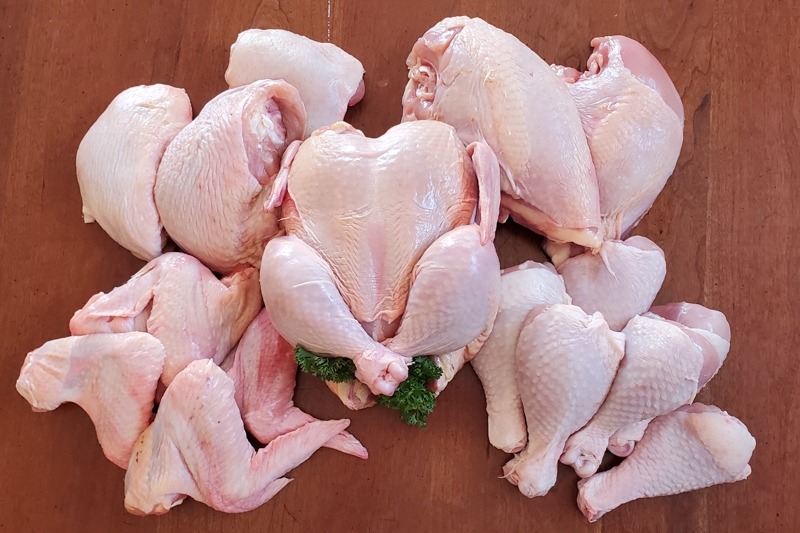 Bulk Boxes
SAVE UP TO 20%
10-20lb Boxes of Our Favorites
Order When Needed, or Set Up a Recurring Delivery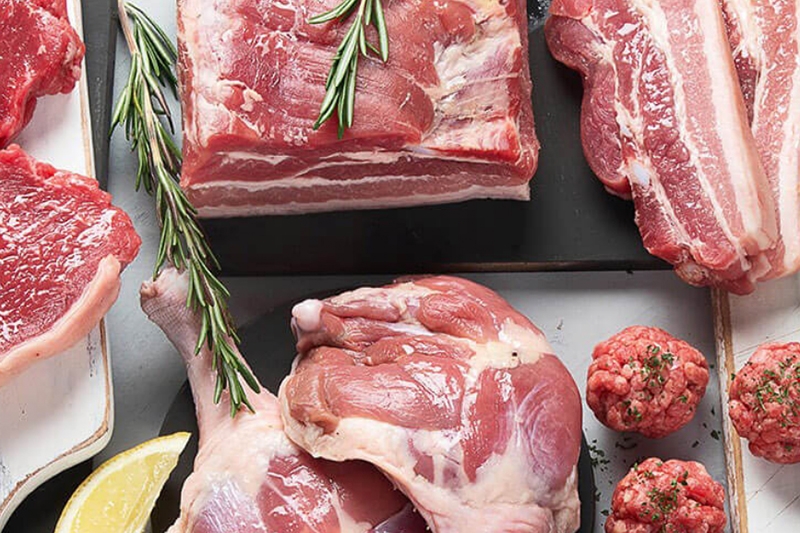 Butcher Shop
Choose from Colorados Best Selection of Pasture-Raised Meat, Wild-Caught Seafood, and Handmade Pantry Items
Free Delivery On Orders Over $50
No Mystery Meat Boxes — You'll Always Know What's Being Delivered
Are your meats truly local?
Yes! We work exclusively with small, family operated local producers. The only exception is our salmon which is wild caught Sockeye from Alaska that is caught each season by our good friend who grew up in Alaska and now lives here in Colorado. Our producers are all located in Colorado or right across the state lines in neighboring Wyoming or Kansas.
What does it mean to be AGA certified and which of your suppliers are AGA certified?
AGA certification is from the American Grassfed Association and is a strict set of standards outlining that:
Animals were fed a lifetime diet of 100% forage
Animals were raised on pasture, not in confinement
Animals were never treated with added hormones or antibiotics
AGA Members are only granted this certification after a full and complete on-farm inspection by a third-party inspector and approval from the AGA.  A bit more information straight from the source (AGA):
At American Grassfed Association, our certification is a third-party verified and guarantees that when consumers buy grass-fed beef with the AGA logo, they are ensured it was born, raised, and processed in the USA, that the animals were treated humanely, and that they were grazed regeneratively. This confirms to shopkeepers and you that AGA-certified producers are improving soils, water quality, biodiversity, and American farming communities.
American Grassfed Beef is more expensive to produce than its foreign and domestic competition, but the price of Certified American Grassfed Beef reflects the real cost of providing the highest quality, honest grass-fed meat to you and your family. We also stand by the rights of farmers and ranchers to make a living that not only supports their families but encourages next-generation succession.
Certified American Grassfed Beef is and should be the ultimate expression of American Family farms and the future of American beef rests in healthy soils managed by our skilled professional grass-fed beef farmers and ranchers.
One of our suppliers, Buckner Family Farms out of Longmont, Colorado is AGA certified for Pastured Lamb, Pastured Beef, and AGA certification is pending for Pastured Pork.
Why are the meats you carry not certified organic?
None of our products are certified organic. ALL of our products are from small, owner-operated local ranches that raise their animals in pasture. For small farms, getting "certified" is super expensive. We offer fully transparent ranch tours to all of our suppliers, and we think you will find they are "beyond organic!"
I can't find an expiration or use by date on a package that I received from you. Why not?
Since we buy exclusively from small, family ranches, and turn over inventory very quickly, all meat we sell was harvested within a few months of sale.  As long as the packaging is not compromised, the product is great to eat.  There are no dates on it, as it's not required to have dates. Many ranches do use date codes rather than dates so that customers do not get confused when they see a date on the package that is in the past, as the actual processing date ALWAYS will be. 
I see all of your meat is either pasture raised or wild caught. Do any of the animals get supplemental feed other than the grasses, forage, etc. they get in the wild environment?
100% Grass Fed Bison, Beef, and Lamb- no supplemental feed!
Pastured Poultry- The birds eat non-GMO corn and toasted soybean in addition to the grasses, bugs, and other forage on pasture.  This supplemental feed is high quality and as much as possible it's raised locally to where the chickens are raised. We try to source non-GMO soy when possible, but it is not always possible. 
Wild Caught AK Sockeye Salmon- no supplemental feed!  It's caught wild so it's eaten all its life from open waters.
What percentage lean is your ground beef?
All of our ground beef is within the 80-85% lean category.
I usually buy a whole animal and stock my freezer. Why should I switch and order a subscription from you?
We offer the true snout-to-tail experience, just as you would get from buying a whole animal. However, we save you freezer space and all of those random cuts that end up freezer burnt (because you couldn't eat them quick enough!) or cast aside because they are just not your favorites. We buy whole animals so that you do not have to. Throughout the year you will receive practically every cut you can imagine and you are always welcome to take things out of your order that you do not wish to receive or add more of the items your household loves.
Why do you not carry local Colorado fish?
The issue with local Colorado fish is there is little to no processing available in Colorado, so we cannot resell fish that is out there (but not processed by legit processors). There are some super small aquaponics producers, but no one processing a production volume to support reselling. When it comes to farmed fish (as opposed to wild caught), we won't sell it until the industry as whole figures out how to do it sustainably, at scale without destroying ecosystems.
What organ meats do you sell?
We have liver, heart, tongue. We do not have brain, tripe, etc. There are two sides to processing, the hot end where the animal is killed, gutted, blood drained, and hooves and head cut off. The meat and bones are then sent to the cold end for processing. All of the items stripped on the hot end are classified unusable by the USDA with the exception of liver and heart. There are bacteria, etc. that can stay on the items (mad cow disease in the brain, bacteria on the intestines, etc.). Small independent processors have no flexibility with this and this is who we work with.
Do you ever get in special holiday cuts?
Yes, we always work with our producers to bring in some limited quantities of special holiday cuts such as whole beef tenderloins and rib roasts.
ORDERING/ACCOUNT LOGISTICS
Can I really pause or cancel at any time? How easy is it to do?
Yes, definitely! Simply log in to your account and you can select to put a hold on your order for a specific date range or cancel if need be. It is that easy. No hidden fees or penalties.
To do so, log in and navigate to your account dashboard.  From there you can skip one delivery by clicking the "Upcoming Deliveries" tab and hitting "skip delivery" next to the date you would like to skip.  Or if you prefer to do a longer hold on orders, click the "Delivery Hold" tab and select the time period you wish to pause for.
If you need to cancel your recurring order for any reason, simply navigate to your "Recurring Items" tab and delete the items you have on the recurring order.  If you have an order that is past the cutoff date/time for that week's delivery, please contact our customer service team at service@locavoredelivery.com and a member of our team can assist you!
I put a credit card on file. How does billing work?
If you have registered for an account at www.locavoredelivery.com and put in your credit card details, but not yet placed an order in your cart, you will not be billed until your first order.
Once you place items in your cart, you will not be billed immediately, as many other eCommerce sites work. Instead, you have until Sunday at midnight before your scheduled delivery date to make any desired changes to your order.  Before Sunday at midnight before your scheduled delivery date, you can delete your order, add to your order, customize a box, etc.
We then run billing on Monday before your scheduled delivery date.  If the card you have on file does not process for your scheduled order, you will receive an immediate email from us prompting you to update the card or take appropriate steps to remedy the decline (sometimes with first-time orders, your bank will not recognize the charge and will decline it and mark it as a fraud.  In this case, you have to call your bank and notify them that the charge is recognizable).  We will then attempt to run your card a second time on Tuesday before your scheduled delivery date.  If the payment processes successfully, you can expect to see your order delivered.  If it does not process a second time, we will not run the card again unless we hear back from you via phone or email.  We do routinely make courtesy calls on Tuesday to collect new payment information if a card does decline a second time.  If you get a second decline notice and you log into your account to update your card, please reach out to us and let us know so we can run it a third time and get your order out to you.  If we do not hear from you, your order will be canceled.
If you have a recurring order set up in the system, only one order will be skipped. Your following order will attempt to be fulfilled and billed.
To cancel or skip upcoming recurring orders please log into your account and navigate to your "Recurring Items" tab.  Once there, you can manage your recurring items by deleting, changing upcoming delivery dates, etc.
When do I need to customize my order by?
You have until Sunday at midnight before your scheduled delivery date to make any desired changes to your upcoming order.  This includes customizing boxes, adding items, deleting items, skipping your delivery, or canceling.  We run billing on Monday morning before your scheduled delivery date so all changes must be in by the Sunday at midnight cutoff.
How do I customize my Chef Curated Box?
All of our Chef Curated Boxes are fully customizable and can be customized about a week or so out from your scheduled delivery date.  Each delivery week the base box contents vary depending on what we have in stock and what we decide to send each month.  We build those base box contents out about a week from your delivery date (if not a bit sooner!).  Until we have built the base box contents out, the price that shows up on that item in your cart will be the price floor price.  That is the minimum price your box can be at after customizations.  After we have built those base contents out, the price will fluctuate up to what the actual cost of the box is and a little orange "Customize Box" button will appear next to that box in your cart.  You can click that button and you will be directed to the customization screen where you can add items, take items out, etc.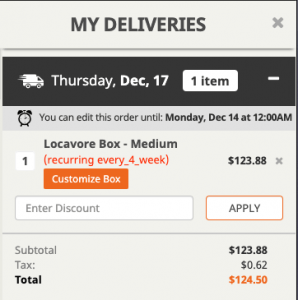 Why are most of the a la carte items only available "on a specific date" and not recurring every 4 or 8 weeks?
Our a la carte selections change frequently depending on what we currently have in stock.  Therefore, we usually cannot guarantee that we will have those items every single month.  Once they sell out, they are usually off the website until we get more in.
We suggest logging into your account a week or two before your next order is scheduled to arrive and shop the current a la carte selections.  However, the best selection is always found within our Curated Boxes!
I took most of the products out of my Curated Box while customizing and I was charged more than the remaining items totaled up to. Please explain.
Each of our Curated Boxes has a price floor.  Meaning a minimum amount in cost that you cannot drop below when customizing.  This is the number that shows up before we have built your next box out if you were to log into your account a few weeks out from your delivery date and viewed your cart.  Once we have built the box contents out for your specific delivery week (about a week out from delivery) we release those boxes for customization by you.  When you are customizing, the price of the box will fluctuate up and down precisely with what contents you add or take out.  However, if you take too many items out and your box dips below the price floor, you will still be charged that price floor total.
What we would suggest if you log in to customize your box and nothing in it appeals to you that month, you can instead take that box out of your cart all together for that delivery date and add whatever a la carte items you like instead.  Or simply skip the delivery all together from your Upcoming Deliveries tab on your account dashboard.
Is there a way to look up what I am going to receive this delivery cycle?
Yes! Simply login to your account and from your client dashboard you have the ability to view all of your orders, what is coming in your next order, make any needed adjustments, as well as make any needed logistic adjustments to your account such as your delivery address or phone number change.
I should have a credit on my account but I do not see that showing up anywhere. Where can I find my account balance?
If you log into your account and navigate to your account dashboard and then to the 'Delivery History' tab, at the top you will see a negative balance if you do in fact have a credit on your account that has not yet been used.  If your account is negative then that negative amount will come off of your next order total.
How do I cancel my recurring order?
Easy! Simply log into your account and navigate to the "Recurring Items" tab from your account dashboard.  From there, you just delete the items you no longer wish to have on a recurring order.
If one of your orders is already past the order cutoff date/time of Sunday at midnight before your scheduled delivery, please contact our customer service team at service@locavoredelivery.com and one of our team members can assist you!
Do you provide a cooler or do I need to have my own?
We do not supply coolers and ask that you please put one out to accept your delivery in. Your cooler should be large enough to fit a packed brown paper grocery bag. There is no need to include ice in your cooler as the meat is delivered frozen so it will stay cold as long as it is in a cooler and in the shade. If you need to leave any special instructions for our delivery driver as to where your cooler is located, please let us know or add them in your client dashboard. If you forget to put a cooler out, we do have a few loaners. Our driver will contact you and take a cooler deposit if they need to leave a loaner cooler at your address.
What if I forget to put my cooler out? What happens?
If you are expecting a home delivery and you forget to put your cooler out, your route driver will first check the Driver's Notes on your account to see if there are any special instructions for delivery.  For example, some customers have made a note such as leaving the order without a cooler and knocking on the door, etc. Drivers Notes can be updated from your account dashboard if necessary!
If there is no relevant note within your Driver Notes, the driver will attempt to get in touch with you via a knock on the door and a text and/or a phone call while at your residence.  If they are unsuccessful and cannot reach you, the order will be considered undeliverable and will be returned to our warehouse.  We are unable to deliver orders without a cooler (or a relevant note from the customer saying otherwise) due to the frozen nature of our product and the need to keep it frozen until it reaches your freezer.  If the order is undeliverable, our customer service team will then be in touch the following day to let you know the next steps on if your delivery can be re-scheduled or if it will be skipped.
If our driver does get in touch with you while they are still at your residence, we can either leave the order without a cooler with verbal permission (if you will be home shortly), or issue a loaner cooler for a deposit of $20.  The loaner cooler can be returned at one of your next deliveries and the $20 will go back to your account as credit.
I live in an apartment/condo thats a bit hard to access or a house that I do not want to leave a cooler outside, what are my options for receiving my Locavore Delivery order?
We offer flexible delivery options! If you live in Denver or Boulder we've partnered with local businesses to offer convenient pickup locations in each of those areas. Additionally, we like to suggest delivery to a place of work if that is within our delivery area or special instructions on your order for our driver to follow to make your home delivery possible. We have many clients who live in condos or apartments that have special delivery instructions for our driver (ex. "I work at home so please knock on the door." "The code to enter the building is #1234, and we live on the fourth floor." "Please leave my order with the concierge at the front desk.")
What type of packaging do you use?
All of our meat is vacuum-sealed in plastic packages to preserve freshness. However, that is as far as the plastic goes. We pack orders in simple brown paper bags or recyclable corrugated cardboard boxes.  We do not use any styrofoam or other packing materials. Since we only offer local delivery, straight from our warehouse to your house, and our meat is delivered frozen, we are able to keep our packaging to a minimum!
Do you have a holiday delivery schedule?
Yes, during the holiday months we do close for certain weeks (Thanksgiving and Christmas). Please login to your account to view your upcoming deliveries if you ever have any questions regarding when your order will arrive.