As the Denver metro area dips into freezing, below-zero temperatures, it feels like a good excuse to stay inside and cook comforting foods. And what better way to warm up than with a rich, hearty and stew or hunk juicy, roasted meat. One of the best things about winter is filling the house with delicious smells, and then curling up with bowl of something tasty to fuel the dark night ahead.
Classic Beef Stew
One of the best thing about beef stew is it can be made in so many ways, and a recipe is just a guide point. If you're on a low-carb diet, skip the potatoes and add more meat and parsnips. Don't like carrots? Leave them out and/or add extra celery or rutabaga instead. The only thing you absolutely need is a good pot or slow cooker, our Rancho Largo pasture-raised beef, broth and a bit of flour to make a roux. After that, the soupy canvas is all yours.
Serves: 4
Ingredients:
1 lb beef stew meat or chuck roast cut into 1-inch chunks
1 medium onion, chopped
4 medium carrots, chopped
2 stalks celery, chopped
2 large potatoes, cut into chunks (peeled or unpeeled)
1/4 cup all purpose flour
1/2 teaspoon fresh black pepper
2 bay leaves
2 teaspoons salt
2 tablespoons red wine vinegar
3 tablespoons vegetable oil
4 cups beef broth (even better, make your own!)
1/2 cup red wine (optional)
Directions:
Mix flour and pepper in a bowl. Dredge beef through the mixture.
Heat oil in a stew pot. Add beef in segments in order to not over crowd the pan. Brown all edges. Remove and place on the side when done.
Add vinegar and wine (or sub water) to pan, scraping any brown bits. Once "clean," put beef back in pot and add broth, salt and bay leaves. Bring to boil.
Lower heat to a simmer for about 90 minutes.
Add onion, carrot and celery. Cook for 15 minutes and then add the potato.
Allow the stew to simmer another 30 minutes. Add more broth if stew seems too dry or you want a different consistency.
Season with more salt and pepper to taste.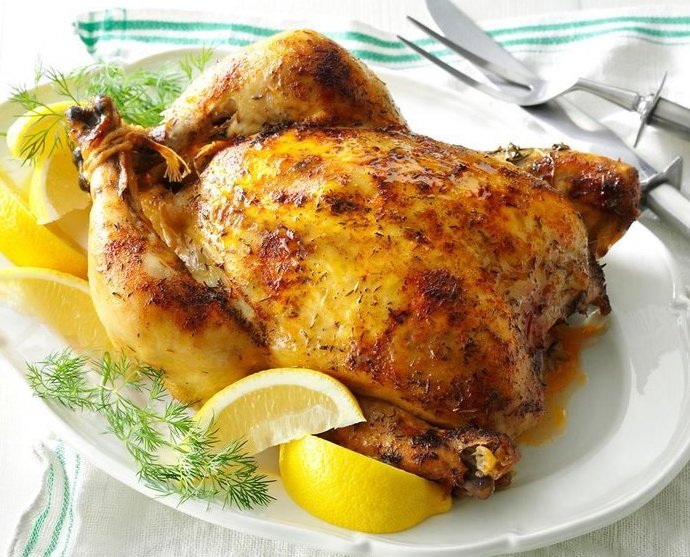 Lemony-Garlic Roasted Chicken
To make the best roasted chicken you have to start with the best chicken, and lucky for us, JHawk Farm raises the birds right, on the pasture and using non-GMO, freshly-milled feed. While this recipe can be made with cut-up chicken pieces, roasting the whole bird really makes for a delightful presentation and allows everyone at the table to get the leg, thigh or breast they desire. Pro tip, make sure to brine the bird beforehand.
Serves 2-4
Ingredients:
1 whole chicken, 3-4 pounds
2 whole lemons
3 tablespoons butter
1 teaspoon crushed, dried rosemary
8 cloves of garlic, peeled and crushed
1 teaspoon salt
1 cup white wine or chicken broth
Directions:
Preheat the oven to 500-degrees.
Position the bird on a rack inside the roasting pan. Make sure the cavity is empty of gizzards. Prick lemons with a fork all around the fruit, then stuff inside the cavity. Truss the legs over the hole/lemons.
Combine butter, salt and rosemary in a small bowl, working it with your fingers. Gently pry the skin near the breast away from the flesh with a sharp knife and slather the mixture under the skin. Add crushed garlic pieces in with the butter.
Make sure the skin is sealed over the flesh. Pour wine/broth into the pan.
Cook chicken for 30 minutes at 500. Then lower the heat to 400. Braise the bird with juices and liquid and put back in the oven.
Cook for another 60 minutes. Check the bird's internal temperature, which should be at 160 to 165-degrees.
When done, pull out the chicken and let rest 10 to 15 minutes. Then slice and serve! Bonus, if there's liquid leftover in the pan, make a silky gravy with it.

Pork Jowl Tacos
Soft shell tacos can be made with just about any meat, but when it's cold and the wind is howling there's something comforting about whipping up spicy pork cheeks for the stuffing. Plus, the pork jowls we get from Salazar Meats are from 100-percent pasture-raised Berkshire pigs, making it some of the best pork money can buy.
With this recipe we use a sous vid. The pork can be crisped up in a pan with some oil after, or served as is. Spruce up the dish with whatever your family likes. For example, guacamole, fiery salsa, pickled onion, crispy pig skin, cotija cheese, shredded lettuce, sour cream and anything else you may desire. Serve with corn tortillas.
Serves 4
Ingredients:
2 lbs pork jowl
1 tablespoon chili powder
1 tablespoon brown sugar
1 tablespoon cumin
1 teaspoon minced garlic
1 teaspoon cayenne pepper (optional based on heat desire)
1 tablespoon salt
Directions:
Mix all the spices together in a bag, put the meat in and make sure the pork is totally covered in spice. Vacuum seal in bag or use a Ziplock bag with all the air squeezed out for the sous vid bath.
Set sous vid at 180-degrees. Emerge jowl and cook for 12 hours.
Remove pork and shred with fork. Either serve as is or crisp up carnitas style in a hot pan with oil.