At the sleek Spanish tapas restaurant Ultreia in Downtown Denver's Union Station, chef Adam Branz gives some heat to his chicken with piri-piri sauce. Piri-piri is a Portuguese sauce that highlights the small piri-piri (also spelled peri-peri) chilies. While it's made by the Portuguese, it was actually developed in Southern Africa by immigrants.
At Ultreia, Branz makes his dish on a larger scale and with some tools and ingredients we might not have, but we were able to adapt this amazing recipe to match what a person can do at home. Try this sauce on the next whole JHawk Farm chicken you get, or use it to coat wings, thighs, chicken quarters and breasts. The sauce can be made in advance and keeps in the fridge for weeks, a bonus if you want to make this recipe on the fly on a Thursday night.
Get a pastured chicken box and try all the cuts with this sauce, or go for a whole bird if you want to do it the more traditional way.
Pollo Piri-Piri
Adapted from Chef Adam Branz at Ultreia
Piri-Piri Sauce
Makes about 2 cups
Ingredients:
3/4 cup onion, diced
2 Tbs garlic, minced
2 bay leaves, torn
3 Tbs dried pequin peppers*
1 cup red bell peppers
1/4 cup bourbon
1 1/4 tsp sweet paprika
1/4 cup sherry vinegar
1 tsp kosher salt
*You can also source dried chile de arbol or cayenne peppers if pequin peppers aren't available
Directions:
1. Sweat onion, garlic and bay leaves until fragrant.
2. Add dried chilis and sweat for another 4 to 5 minutes.
3. Add red bell peppers and sweat until soft.
4. Add the bourbon and paprika and cook until liquid disappears.
5. Add vinegar and season with salt.
6. Puree until smooth and cool.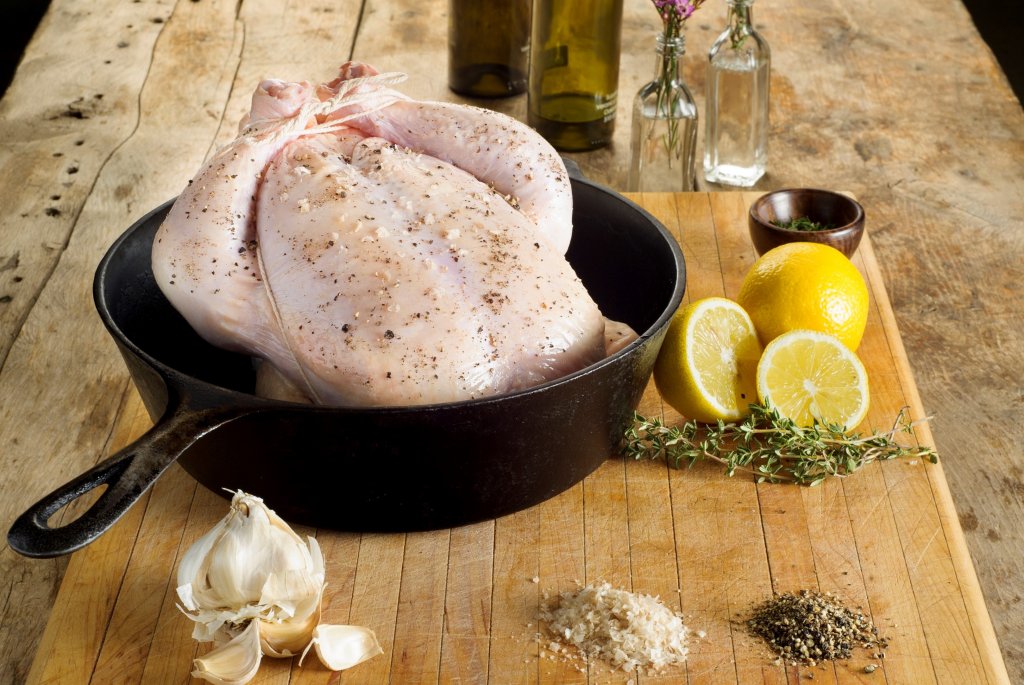 Roasted Chicken
Ingredients:
Small whole chicken spatchcocked, or 2 to 3 pounds of chicken parts
Salt to taste
Piri-piri sauce
Directions:
1. Preheat oven to 350 and season chicken with salt only.
2. Before going into the oven, sear meat on medium-high heat on stove.
3. Once seared, place in oven for 15 minutes.
4. Turn Chicken and coat top with some of the Piri-piri sauce. Return to the oven to finish cooking, about 8 minutes or until chicken temp reads 165-degrees.
5. Remove finished chicken and set aside* and serve with cucumber salad (recipe below)
*Optional: Deglaze pan with a touch water and butter to make pan sauce that can be served with chicken or saved. Or mixed with some of the Piri-piri to make a spicy sauce to drizzle on top of the meat.
Cucumber and Dill Salad
2 Servings
1 tsp fresh dill, chopped
1/4 cup extra virgin olive oil (La Ciultivida preferred by the chef)
1 lemon, juiced
Salt
Directions:
1. Toss all ingredients together in a bowl and salt to taste.
2. Marinate at least 10 minutes before serving.