The holidays are nearing and it's time to start planning what you will feed yourself, your family, friends and anyone else who happens to pop by for a meal. While side dishes are important, it's that main meat course that will really solidify the event, so make it stand out both in magnificence and quality.
Not only does sourcing a grass-fed standing rib roast or pastured whole duck from a local ranch makes the guests at your table feel good, but it makes us feel good too. At Locavore Delivery we seek out pasture-raised lamb, chicken, turkey, pigs, cows and ducks, and wild-caught, sustainable salmon from Bristol Bay, Alaska. The meat we source tastes superior to anything you buy in the grocery store, while also supporting local, small operation farms.
Order one of these five, limited-supply cuts as soon as possible, and be sure to wow any guest.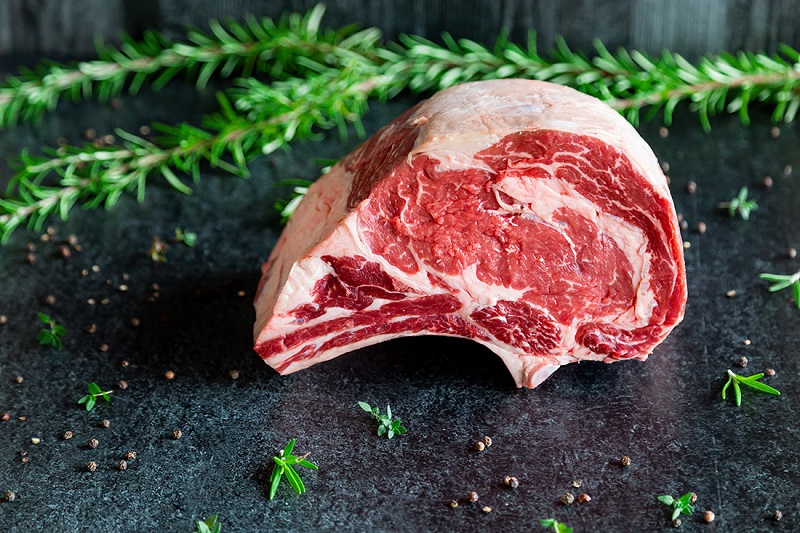 The Shorthorn cattle from Buckner Family Ranch are raised on 800 acres of land in Boulder County, grazing and moving around as they wish. This way of life comes out in the flavor of the beef, and this particular cut of meat is a show stopper. Not only are there grassy, fresh notes thanks to the lifestyle of the cattle, but the beef gets dry-aged for 60 days, which just adds to the tantalizing taste. Each pack of standing rib roasts come with two to six ribs depending on the size you're looking for and how many people you're planning to feed.
How to Cook a Standing Rib Roast
To cook, make sure to season with kosher salt in advance to help bring out the flavor. Pre-heat the oven to 450-degrees and set the roast bone-side down in a roasting pan. Cook for 20 minutes. Take the roast out and lower the temperature to 350-degrees. During this time brush the surface of the beef with whatever seasoning you desire (a nice Dijon mustard, garlic and thyme mixture works well, and we also like The Spice Guy's Roasted Garlic Blend). Then, put it back in the oven to finish cooking, for about one-and-a-half hours, or until it reaches the desired temperature*.
*It's best to only cook this beautiful piece of meat to around 120-degrees in the oven then pull it out and let the roast finish cooking. This gets you a perfect medium-rare standing rib roast, but if you prefer it medium take out when the internal temperature reads 130.
We love chef Justin Brunson's Denver-based meat company, and he does wonders with pork. To make the charcuterie, sausages and in this case, ham, his team uses old world techniques and sources from family farmers who raise their animals the right way. All River Bear's hand-trimmed products are antibiotic-free, hormone-free and filler-free.
Now, back to that glorious boneless ham, the prefect addition to any holiday table. It's already cooked so preparation is low-key, and ham goes with almost any side. Pair with an array of mustards or Highland Honey's local wildflower honey, which can also be used as a glaze while heating the meat. Best part, leftover ham and cheese sandwiches the next day.
Pastured Leg of Lamb from Buckner Family Ranch
Nothing screams the holidays like a beautiful leg of lamb gracing the table. At Buckner Family Ranch the Colorado lamb is 100-percent pasture raised. The farm breeds Columbia and Rambouillet ewes, two types of sheep renowned for a heartiness that matches the western landscape, and Hampshire or Dorset rams that help produce lamb noted for a mild flavor and pleasing tenderness. All of this goes toward making your spread one of the tastiest and most well-informed around.
How to Cook a Leg of Lamb
A leg of lamb is super tender, so not much is needed in order to cook it well. Preheat the oven to 350-degrees. Then rub the meat with rosemary, garlic and kosher salt, or add some spice with The Spice Guy Midnight Toker seasoning blend. Once the oven is heated, place the lamb in the center rack and cook 20 minutes per pound. Take out when the internal temperature is around 130-degrees and let rest for at least 15 minutes. This will produce a perfectly medium-rare leg of lamb that can be carved at the table.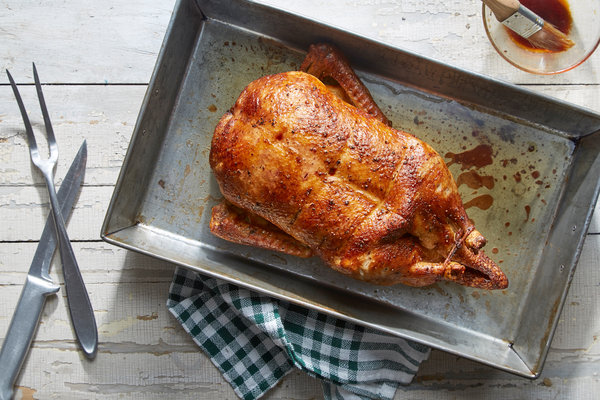 Who needs turkey when you can have a pasture-raised whole duck at the table? We don't always need a huge feast, especially when there aren't a lot of people at the table or you want to serve other meats as well, such as the aforementioned River Bear ham. The pastured poultry from this Kansas farm is the best around, thanks to the owner's dedication to moving the birds to fresh pasture every day. This duck has a superior flavor, a rich color and that thick, melt-in-your-mouth fat that crisps up so perfectly. JHawk Farm only raises one flock of ducks each year, and the birds we have in stock are almost sold out.
How to Cook a Whole Duck
To cook a whole duck treat it a lot like chicken, but keep in mind the meat is dark and fattier. Preheat the oven to 450-degrees and place the duck breast-side down on a rack in a roasting pan. Sprinkle salt and pepper, and brush with a sauce such as soy, plum jelly or tamarind. Roast for 30 minutes. Then remove the duck and pierce the skin with a knife all over the back. Flip the bird, season again and place back in the oven for 20 minutes. Then take out the bird again, this time piercing the breast side. Season and roast another 10 to 20 minutes. The internal temperature should be at 145-degrees, and the duck needs to rest for about 20 minutes before carving.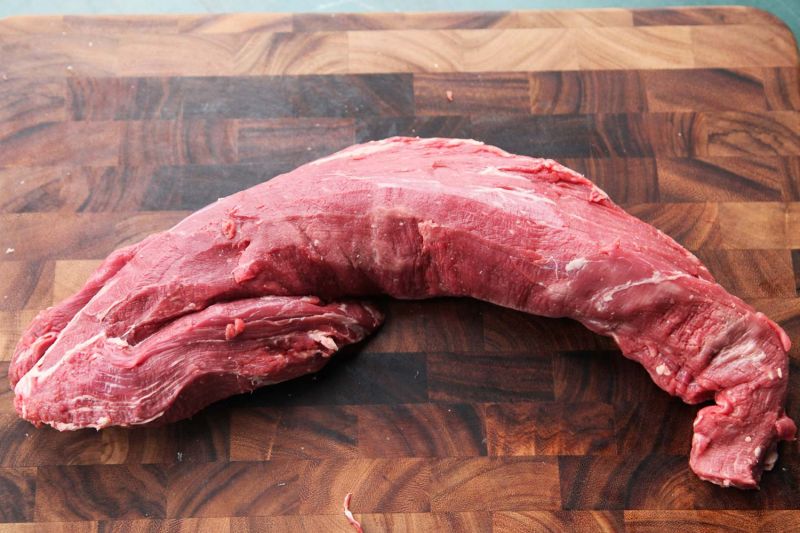 Whole Grass-Fed Beef Tenderloin from Buckner Family Ranch
At around three- to five-pounds, this cut of 100% grass-fed beef is perfect for small celebrations. This particular cut is double-aged, and has amazing marbling that makes it not just awesome to behold, but amazing on the palate as well. There are only two tenderloins per cow, which means only a handful of people will get to showcase this cut at their holiday table, which makes it even more special. Slice the meat into tantalizing coins and present with plenty of fanfare. Keep it classic and serve with red wine sauce or slathered in garlic butter. And, to cook the perfect whole beef tenderloin, follow the mad food scientist J. Kenji López-Alt's expert directions.