Classic movies will have you believe cooking up a romantic dinner is close to impossible, especially if you're single and trying to impress a certain someone. While we all have kitchen blunders, creating a special meal for a loved one, or soon-to-be loved one, doesn't have to comically fail. In fact, with the right steps it can be glorious, no matter what happens along the way.
The first thing to do, get really good ingredients. Yes, we're talking pasture-raised meat, among other things. Not only does having quality chicken, pork, lamb or beef make the dinner sing, but the natural flavor helps cover up any mistakes that might have happened during prep time. Plus, knowing you're feeding a sweetheart the best food you can get makes the love shine through even more.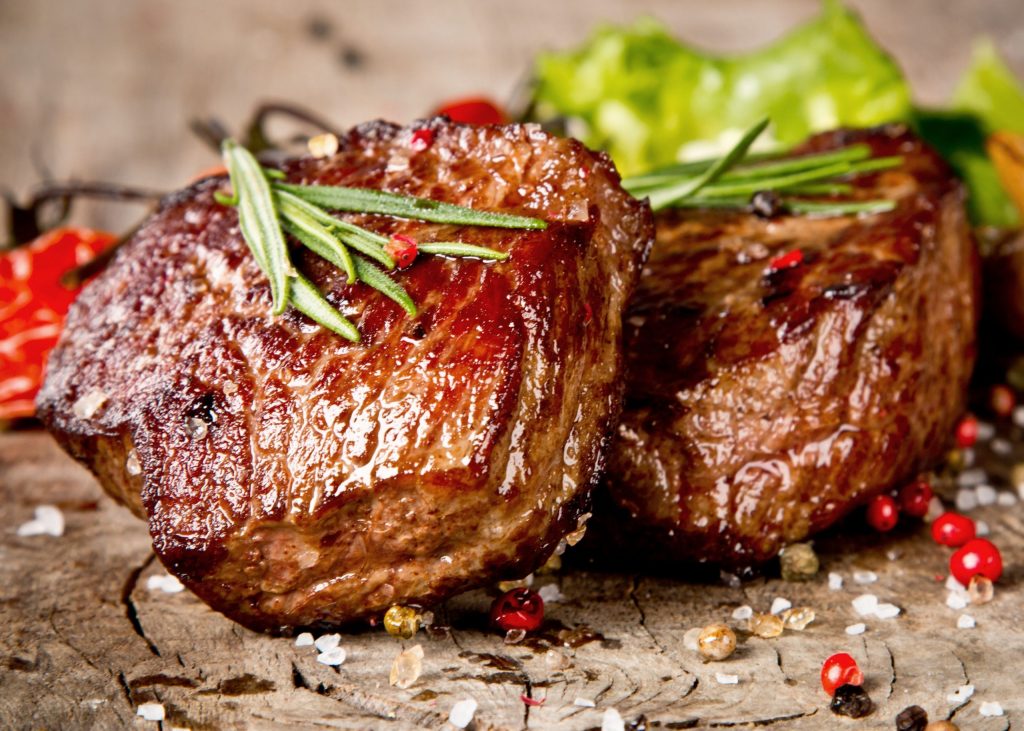 Simple But Elegant
For the novice cook it might be better to go for a meal that's a little more simple and won't take much effort. That means it's time to master preparing a steak. While the actual grilling or pan-searing of a steak doesn't require much finesse, you need to make sure to get a really nice grass-feed ribeye or NY strip if you want the dish to truly sing. The former is a great piece of meat to share due to sheer size and the classic shape, though you could certainly wow with a whole ribeye each.
Cook the steak on the grill with a little salt and pepper, or pan sear it, for a tasty and uncomplicated dish. Or, try something a little more involved. This recipe for Butter-Basted Ribeye Steaks by Food and Wine is an elegant approach, or instead top the dish with fresh chimichurri. For the grass-fed NY strip steak give chef Tyler Florence's Food Network recipe a go, it's simple and uses butter, thyme and salt for flavoring. Another great way to prepare a steak is by rubbing the beef with a preferred spice mix, we love the options from The Spice Guys, then putting it in the sous vide all day, and finishing on the grill.
Make sure to plate the steak nicely, along with sides. Suggested accompaniments include truffled mashed potatoes, a classic Caesar salad, grilled carrots with lemon and dill, rosemary-laced Brussels sprouts or panzanella, also known as the Italian bread salad. Adding a charcuterie board with cheeses, gourmet olives and dried fruits to nibble on beforehand isn't a bad idea either, and just adds to the elegance of the meal.
Set the Mood
Part of having a romantic dinner is making the setting feel exceptional. Often this is done with candles, which are always a good idea as long as they don't have a scent to them. After all, no one wants to smell vanilla and coconut while trying to take in the aroma of a sizzling seared steak. If candles aren't your thing, place a small bouquet of flowers, pretty plant, or magnificent geode on the table off to the side. You don't want the arrangement to block your sweetheart's face or hinder any handholding.
Make sure the space you're eating at is clear of distractions. Put devices away and find a way to connect to your date over the table and through food. Use real cutlery, the best you have, as well as non-plastic plates and glasses, and the nicest napkins you can find. To help add to the mood play gentle music, sexy Spanish guitar, or a band you both like, but keep the volume quiet enough that you can hear each other talk.
Plan a Feast
If you're a more experienced cook or just want to really try and make a romantic feast to remember, well we commend you on that too. Go big or go home, right? This is the time to break out our wild-caught salmon by Alaska Direct, as well as the dry-aged beef tenderloin fillet from Buckner Family Ranch. Serve them together for a surf-and-turf style meal, or as separate courses. For wild-caught salmon we like this recipe by Sheila Lucero of Jax's Fish House. If you want to do just the grass-fed beef tenderloin, take advice from Serious Eats and reverse sear. Overall, let the meat's natural flavor speak for itself.
Beef and salmon aren't the only elegant meats to work with. Roasting a leg of lamb certainly is another way to show someone you love them, especially when it's a pasture-raised cut of meat from Buckner Family Ranch. We suggest following recipes such as the rosemary and garlic one by Epicurious, or this Greek-style roasted leg of lamb with oregano and lemon.
Sweets For Your Sweetheart
Don't forget about dessert, it's just as important as the main dish. Show your love how sweet they are with Giada De Laurentiis's Honey Ricotta Cheesecake, using local Highland Honey wildflower honey of course. The National Honey Board also has a recipe for Spicy Honey Lava Chocolate Cake that comes with cocoa nibs and honey-glazed oranges. Side note, honey is considered an aphrodisiac, along with chocolate and chilies. Just something to keep in mind as you cap off your romantic dinner, full, happy and in love.