Lamb ribs may not sparkle in the spotlight like pork or beef ribs do, but this cut of meat certainly has a place at the table. Our lamb ribs come from Buckner Family Farm in Longmont, where the sheep are raised on open pasture and eat fresh grasses in the summer and dried grass in the winter. They get plenty of activity and are treated well by owners Clint and MaryKay Buckner. The care and quality of life can be tasted in the meat. In fact, we think this is some of the best Colorado lamb you can get.
To make this simple dish, cook the lamb ribs low and slow, or use a pressure cooker like the Instant Pot to really permeate the meat. They are best finished on the grill to help caramelize the sugars and add a touch of smoky goodness to the dish. If you don't have a grill finish the lamb ribs either in a very hot oven, in a pan on the stove or in the broiler.
Do you have a favorite way to cook this cut of meat? Please let us know!
Lemony Lamb Ribs With Garlic and Rosemary
by Chef Matthew Lundquist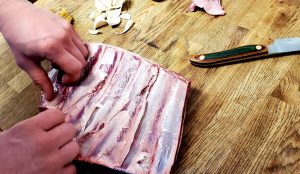 Ingredients:
3 lbs lamb ribs
1/2 of a preserved lemon, about 1/4 cup, chopped
1 tablespoon dried rosemary, chopped
5 cloves garlic, chopped
1 small shallot, chopped
1 tablespoon honey
1 tablespoon kosher salt
1 teaspoon black pepper
3 drops liquid smoke, or more for taste
1 tablespoon olive oil
3 tablespoons butter, for basting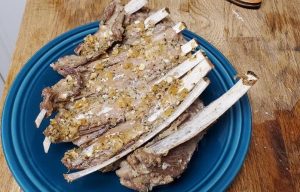 Directions:
1. Remove the silver skin from the back side of the ribs, and trim off any excess fat along the top and/or bone. Cut between the joints of the ribs, leaving them connected at the tops. 

2. Combine the rest of the ingredients save for the butter and make a chunky paste.

3. Spread paste over the ribs completely. The meat is best if it can marinate in the paste for 20 minutes or longer.
4. Place a grated stand in the bottom of a pressure cooker with 1/2 cup of water. Place ribs in pot so they are just above the water on top of the stand.

5. Cook for 45 minutes and allow for natural release.
6. Remove the ribs and add 3 tablespoons of butter to the liquid in pot. Stir to combine.

7. Finish lamb ribs on the grill or in a broiler, basting with drippings from the pot, about 10 minutes.
Serve with: Mashed potatoes, coleslaw, green salad, pickles, dinner rolls, roasted vegetables