"Our beef is raised right here in the North Eastern Plains of Holyoke, Colorado. All animals are born here, grown in big grass fields and then finished on an all natural diet of alfalfa hay and oat grass on our farm. We do not spray any chemicals on the hay that we feed the animals. The animals are raised free of hormones and antibiotics. They are given plenty of room to grow and play and are treated very humanely. The animals drink water that comes from our deep wells, and there is no hydraulic fracturing in anywhere near our ranch."

Roger Koberstein, Rancher
Koberstein Farms is a small, family-run ranch full of beautiful views and happy, free-roaming cows.  All beef is processed in a Temple Grandin-approved USDA inspected processing plant, vacuum sealed, and flash frozen to maintain optimum flavor.  Beef remains frozen from the time of processing until it reaches your door.

100% Grass-Fed / Grass-Finished Beef
Eating Grass-Fed Beef vs. Grain-Fed Beef:
Promotes cardiovascular health through a better balance of omega-3 and omega-6 fatty acids.
Higher in key nutrients, including vitamins A, E and several phytonutrients.
Three to five times higher in conjugated linoleic acid (CLA), a fatty acid shown in studies to fight many types of cancer.  CLA has also been associated with healthy weight management.
Contains higher proportions of stearic acid, which does not raise cholesterol levels and may actually help lower them.
Is lower in total fat and calories than grain-fed beef.
Can play a significant role in healthy weight management.

Antibiotic Free and Hormone Free
Hay / Forage is Never Sprayed with Chemicals
All animals are born on the farm, grown in big grass fields and then finished on an all natural diet of alfalfa hay and ground corn grown on the Koberstein farm. The animals are raised free of hormones and antibiotics. They are given plenty of room to grow and play and are treated very humanely.

Purebred Angus Cattle
Koberstein is a family operation involved in every aspect of their beef production. Their Angus purebred operation is focused on progressive performance-based genetics that cannot only flourish on the flats of eastern Colorado but anywhere in the country. Koberstein Farms looks forward to playing a greater role in the Angus genetic advancement in Colorado and the west.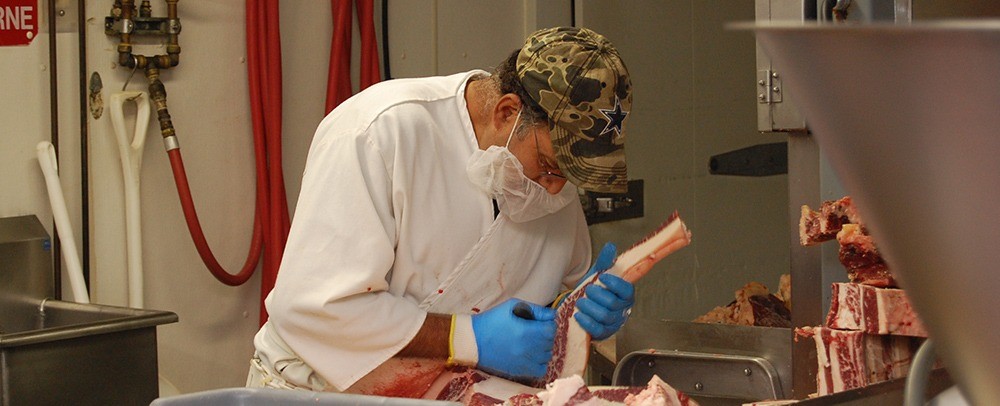 Processing Takes Place at Innovative Foods in Evans, CO
At Innovative Foods, our mission is to provide safe, wholesome, high-quality meat products and by-products from humanely raised livestock provided by local and regional family farms and ranches.
Innovative is a USDA Inspected custom processing plant and retail meat shop located in Northern Colorado.  The meat they process is not only good to the last bite, it comes from a plant where cleanliness is every bit as important as the quality of the meat.  Innovative specializes in custom and wholesale processing.
Locavore Delivery has worked with Innovative Foods for many years and trusts their talent and skill in processing exactly how we request.  Much of the processing is hand-cut by their talented team of butchers to our exact specifications.