In Denver there's a little restaurant called Beast + Bottle, which is run by chef Paul C. Reilly and his sister Aileen V. Reilly. The pair strives to use as much local food as possible, and pasture-raised lamb is one of the top meats found on the menu. Paul orders his lamb whole, and then butchers the meat in house. A few years ago I had the pleasure of doing a story on this process, and took a lot of photos of one of the other chefs handling the lamb.
Beast + Bottle still works to keep this quality going (though for take out right now), so we reached out to Paul for a good way to cook some of the wonderful Buckner Family Ranch lamb we have sourced for customers. He shared with us a simple grilled lamb chop recipe that get's a lot of bright flavors thanks to a mint and spicy tomatillo glaze.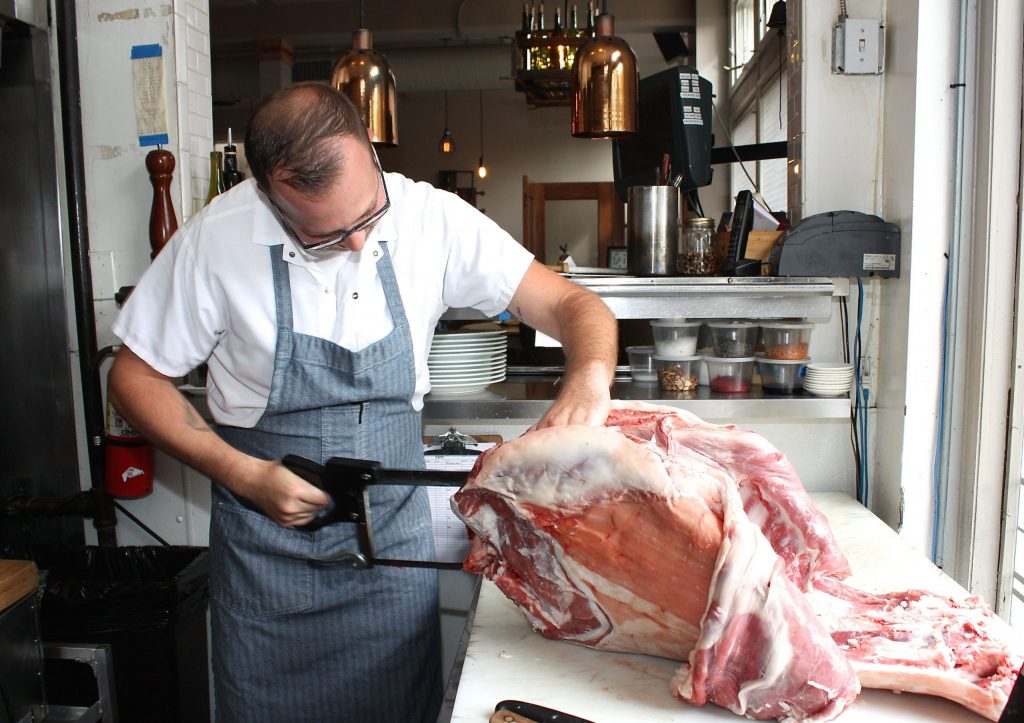 "I prefer to grill lamb chops individually over a very hot grill, as opposed to a rack of lamb, that way each section gets a nice hard char," says Paul. "Brush this glaze on the last minute of cooking to help caramelize and pour the rest over the chops once they've rested for a few minutes off the grill."
The glaze works well with a leg of lamb too, and could be a tasty divination from the normal holiday menu. As for sides, mashed potatoes, buttered peas and/or a hearty spinach salad would pair nicely; or try a simple rice pilaf and roasted carrots. We also encourage you to check out what Paul is cooking up at his Uptown restaurant the next time you find yourself in Denver near 17th Avenue and North Washington Street.
Grilled Lamb Chops with Spicy Tomatillo and a Mint Glaze
Ingredients
Lamb:
2 1/2 pounds lamb chops
Salt
Pepper
Oil
Glaze:
10 large tomatillos, peeled and rinsed, rough chop
4 jalapeno chiles, seeded and coarsely chopped
2 cups apple cider vinegar
2 cups water
1/4 cup sugar
1 tablespoon salt
¼ cup mint leaves, rough chop
Directions:
1. For the glaze, bring all ingredients except mint to a boil.
2. Reduce to a simmer and let cook down until syrupy and consistency is close to BBQ sauce.
3. Remove from heat and let cool.
4. Once cool add in the mint.
5. Get the grill very hot.
6. Season chops liberally on both sides with salt and pepper.
7. Brush meat with oil and cook each side, aiming for a little char.
8. Brush with glaze in the last minute of cooking.