Back to school, fall activities and shorter days mean less time to hang out by the grill and cook up a feast. But just because life is busy, dinner shouldn't suffer. With good ingredients, quality meat and a wee bit of planning, weeknight meals just go easier, and are just as tasty. Here are five ways to keep it simple when you don't have time for an elaborate meal.
The Slow Cooker is Your Friend
The days are getting chilly and what better way to warm up than with a heaping bowl of slow-cooked goodness. The slow cooker can be handy when making a chili (just add browned ground beef at the end), and any hearty soup can be put on in the morning and served for dinner. A pastured beef chuck roast will cook all day in the Crock Pot, making the perfect bone-warming stew. Classic Texas-cut short ribs are another cut of beef that taste great when they have been cooking in wine or broth all day. You can even prepare a whole chicken in the slow cooker, just make sure to brine it first.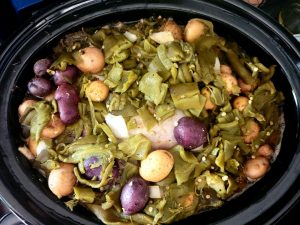 Or, throw a pastured pork shoulder in the pot with: Two cups of roasted green chilies; a whole onion, diced; can of beer, preferably an ale or lager; two tablespoons salt; one tablespoon cumin; and a pound of potatoes, either small whole ones or larger ones cut into chunks. Cook low and slow and 10 hours later you have pork falling off the bone and simmering in a fall meal to crave. Top with sour cream and serve with tortilla chips. And expect leftovers, which means at least one more dinner and/or lunch is taken care of.
Sandwiches For Dinner
Who says a sandwich is just lunch fare? Take this dish when you're on the run, or prepare dinner for the whole family in under 30 minutes. By adding a sandwich night to the week's menu board, not only will you have an easy meal, but there's almost no prep involved if the fridge and pantry are stocked.
Make sure to always have uncured bacon on hand for a quick BLT, which can be enhanced with fancy mustard, a fried egg and roasted green chile. Grilled cheese and tomato soup takes no time at all, and it's a comfort food great for kids and adults. Use leftover pastured chicken to make a hearty salad with pecans and apple, and slap that on a roll and serve with potato chips or a pile of fresh greens. Leftover skirt steak doesn't have to be heated up in order to create a super steak sandwich, just add blue cheese, lettuce and anything else that makes your sandwich sing.
Salmon In Under 30
Have you tried the wild-caught Sockeye salmon from Bristol Bay, it's a customer favorite and so, so good. We get the fish from Alaska Direct, and it's frozen and vacuum sealed quickly after being caught. This means not only does the salmon taste fresh, but there's not a lot you need to do to it before eating it. The quickest way we prepare a whole fillet involves some spice, seasonal and/or beloved vegetables and olive oil.
Start by heating up the oven to 450-degrees. Toss your chosen vegetables in olive oil, salt and any spices you want. Then cook them for 15 minutes. If potatoes or yams are in the mix, add an extra 10 minutes. While the vegetables cook take the salmon out of the fridge, pat dry with a paper towel, smear some oil on the pan and set it down. Then rub any spice blend you want on top and let it sit. When the timer goes off, stir the veggies and put them back in, adding the salmon to the top rack. Cook another 15 minutes and it will come out medium-rare. If you like salmon cooked more, just add an extra five minutes. Voila! Healthy, delicious and so simple to make.
Steak Is Easier Than You Think
Often we consider a steak dinner to be something special, but it doesn't have to be just for fancy nights or celebrations. Make that Monday rock by throwing a steak on the grill along with some cut potatoes and vegetables. Even better, cheat by buying frozen fries or tater tots and cooking in the oven as your steak sizzles. Vegetables such as zucchini, cherry tomatoes, onions, whole mushrooms and chunks of peppers can be skewered, drizzled with olive oil and salt, and cooked along with the meat. Preparation is simple and can be done ahead of time.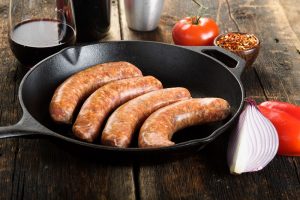 Sausage Makes Everything Good
Aside from taste, one thing that's great about sausage is how easy it can be cooked. Even if the sausages are raw, like the Buckner Family Farm Italian sausage links, it can be prepared in a snap. Pair sausage with pasta, eat on a roll, or just serve a type like bratwurst with a salad or roasted vegetables. The recipe below is one of the quickest and most efficient ways of preparing sausage, and it's customizable to your family's taste
Sheet Pan Sausage
This is a great time to use the sheet pan, so not only will the vegetables benefit from the flavor and fat of the sausage, but there will be less dishes too.
Ingredients:
1 pack sausage links
3/4 cup yellow squash, cut into 1/2″ thick half moons
3/4 cup zucchini, cut into 1/2″ thick half moons
1 small onion, chopped
1/2 cup cherry tomatoes*
2 tablespoons olive oil
1 teaspoon salt
4 garlic cloves, crushed
1/2 teaspoon black pepper
Directions: Feel free to play around with the vegetables, if you don't have the exact amount, no problem. With sheet pan suppers anything goes.
Heat oven to 400-degrees.
Toss vegetables, garlic and spices in the olive oil, use more if needed.
Place vegetables on the pan, making room for sausages.
Nestle sausages between vegetables near the center of the pan.
Cook for 20 minutes, or 30 if the sausage is raw. Prick vegetables with fork to check if done, they should be soft but not mushy.
*Pro tip: Add tomatoes for the last 10 minutes only if you want them to remain a little crunchy.