by Linnea Covington
Once a fisherman, always a fisherman, says Ryan Hanley, who provides the beautiful, bright red-pink salmon we serve to our customers. Hailing from Alaska, Ryan moved to Colorado in 2005 to go to the School of Mines, but after falling in love with his now wife and becoming a firefighter, he never went back, save for the fishing season. 
"When my wife and I were going to get married and have kids, I told her this was going to happen every year," he says about seasonal salmon fishing. "Once fishing is in your blood it's there and you can't not do it." 
Each July Ryan travels back to Bristol Bay in Alaska, and to his roots, joining a crew of friends and heading out day and night to catch sockeye salmon in a gill net as the fish travel up the rivers to spawn. Sometimes, he says, the water looks black as millions of fish move through the waters, heading up the rivers that break off from the Bering Sea. And, even though the job is tough, the hours long and sporadic, and sometimes you get so weary you can't move your shoulders and hands due to stiffness, this firefighter loves it. 
"I look forward to it every year," he says. "I get to spend a month on the ocean with some of my best friends, making good money, and you can go and just forget about everything else."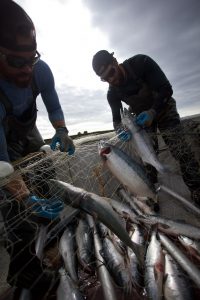 He also gets to take home some of the best salmon in the world. Bristol Bay provides 75-percent of the world's wild salmon, and Ryan has around 8,000 pounds of the class-one fish set aside for him and his company, Alaska Direct. These are the perfect specimens, with no flaws inside or out. Once they come out of the water the salmon are bled right away to help preserve the meat, and within six hours they have been sent to the processing plant, cleaned, had the pin bones removed and get vacuum sealed in a pouch with a glaze of salt water over the top. Then the fillets are flash frozen and sent to Ryan's freezer facility in Aurora. 
About three-quarters of that beautiful fish Ryan gets goes to Locavore Delivery's customers, and it's not like anything you will see at the grocery store. This fish, says Ryan, is the real deal when it comes to sockeye salmon, and while it may be pricer than the special at the supermarket, the nutrition and flavor sings high above the rest. 
"There's kind of a fight in the salmon world where farmed fish are now allowed to be labeled organic if they are fed organic food," says Ryan. "You can see the fat lines in the fish because it doesn't swim around. A wild salmon that is swimming free and can catch its own food and is a lean, flavorful meat."
Even that pink color consumers associate with salmon isn't natural in farm-raised fish. The color comes from the food wild salmon normally eat, which changes the flesh to shades of orange-pink, similar to how flamingos get their unique hue. For farm-raised salmon to get a shade that people recognize, dye is added in the food and sometimes they are fed bits of old carrot. To Ryan, and others born and raised fishing salmon, that pale pink supermarket stuff can never replace what they work hard to harvest each year. 
"Our salmon is able to get processed so fast that we lock in that high quality," he says, adding that at his house smoked and grilled salmon makes an appearance on the table at least twice a week. "When you thaw it out it doesn't smell fishy, it smells like the ocean."
The first time Ryan fished on a commercial boat for salmon he was 14-years-old. It was natural for a boy his age in his small town to get to know the biggest trade, and it's a job he still enjoys doing today, even though most of his time is spent working as a firefighter in Castle Rock or at home with his pregnant wife and toddler daughter.
"Firefighting is just like salmon season, you can expect a lot of the same but different surprises," says Ryan, who first got introduced to the notion of firefighting thanks to some childhood friends who also join him in the summer to catch salmon. "With fishing you don't know what tide it will be, and it's the same thing with fire, some calls are the same and some you have never seen before."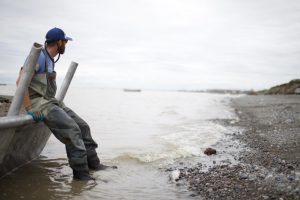 While Ryan does a little fishing outside his Alaska adventure, he says Colorado fly fishing isn't quite the same as in Alaska where he would hop on a buddy's plane and fly to a secluded lake to hook 20-pound trout. He still likes to do it, especially with his father-in-law, once again showcasing how, for this salmon master, fishing is done with love.
When he heads back to Bristol Bay for the next season he will be one of thousands to invade the town for fishing. Usually, he says, there are just the 700 residents. But come June and through July the numbers can soar up to 20,000 people, all there for some of the best salmon in the world. 
Try it for yourself HERE. Currently, we sell Alaska Direct's wild-caught sockeye salmon in the Locavore Deluxe Box, Locavore Medium Box, Pastured Chicken & Salmon Box as well as a la carte in bulk on occasion.