Every day is pie day for John Hinman, the man behind Hinman Pie in Arvada, and Locavore Delivery's newest foodshed partner. Born in Colorado, John grew up in New York but always wanted to come back to his birthplace thanks to his mom's love of the state. He found a way by applying to Denver University, where he didn't study food as one may guess, but ceramic arts. Now he is the unofficial pie master of Denver, and we have teamed up with him to bring our customers his famous apple pie, nine-inches of wonder packed with Granny Smith apples from Ela Family Farms that comes to us frozen and ready to heat up in the oven.
Expect to hear about a savory pie soon, it's something we are working with John to make. While it hasn't been finalized, let's just say this pie involves grass-fed ground beef from Buckner Family Farm and a whole lot of other great flavors.
Locavore Delivery: How did you get started making pies?
John Hinman: I started making pies because pastry chefs started putting rosemary in chocolate. Before pie I was a pastry chef for 20 years. In 2001 I worked at Roy's [now closed] as pastry chef. At Roy's I was hired as a sous chef but I didn't like the set up so went to the pastry corner and did desserts. Then I worked at Vesta as a pastry chef for five years. Then I became a pastry chef for Big Red F. I also had a gelato business on Pearl Street in Denver called Nosh, I think it was in 2008.
When that closed I went back to Big Red F and opened The Post [Chicken & Beer] in Lafayette and started making pies there. One thing led to another and I left and started Hinman's Bakery in the fall of 2015.
LD: Why pie?
JH: Pies seem very approachable and when I started nobody was doing it. I went around and was like, 'Where is good pie?' I ate all the Hostess and Village Inn and Sarah Lee pies, and it's all the same stuff. Then one summer I entered every pie contest in Denver until I started beating grandmas. I had a rule, grandmas all use Crisco, so I said no Crisco. I started making my own lard and used Niman Ranch for a while.
They actually flew me out there to make pies for a big dinner once. But, there were no pie plates and no place for me to make the 100 pies. So, I found a local grocery store that would let me use their basement kitchen and I made 100 heirloom apple-cheddar pies in 24 hours.
LD: Now Hinman's Bakery is Hinman Pie, why the leap?
JH: I originally bought the bakery in the hopes of making it a pie bakery. I went from a three-by-five table to a giant space over night. I kept winning Best Pie in Denver but you couldn't buy my pies anywhere. Then COVID hit and there went the bread income, which wasn't that great anyway. So I shifted gears and turned into Hinman Pie. Now we only do frozen, take and bake, sweet and savory and hand pies. During this transition we renamed ourselves, got new logos, boxes and a website, and next month we will start shipping nationally.
LD: What makes your pies so darn good?
JH: All the love we put into it. But really, it's our ingredients. We use real stuff. The pie is made with all Colorado flour from Ardent Mills and is all Colorado grown. It comes from farms that are going to be certified organic, but it's a three year process. Our blueberries come from Maine, peaches from the Western Slope and cherries from Michigan. We stick to the classics and are not trying to reinvent the pie.
LD: What's the craziest pie you have ever made?
JH: For as crazy as I am, I think it's immoral to mess with the pie. And, some other a-hole is going to do it.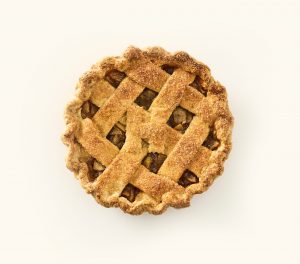 LD: Any pie disasters?
JH: Thanksgiving 2019, it was two in the morning and we were making pies and rolling the doughs. There was a bunch of us and I kept saying to put the pie shells in the cooler. Well, they didn't and 250 pies hit the floor, which cause me to go outside and sit on a block of ice and cry.
LD: What's your favorite pie?
JD: Cherry, cherry is the pie that started it all. I based it all off of eating a Hostess pie.
LD: Do you like making savory or sweet pies?
JH: I really like making cherry pie, it's my joy, but maybe that's because I like eating it too. I like playing around with the savory pie, but I want to stick to the classics too. The tangent of a shepherds pie verse a cowboy pie, that's cool to me. But going off the rails, like making a sushi pie–you know somebody has tried it–is not for me.
Now that I am older I know what I like, so I stick with what other people like too. The key to doing those simple things is it takes people on a trip to those simple times. It takes them back.
LD: What do you eat when not eating pie?
JH: I eat a lot of Blue Pan Pizza. I'm single, I'm simple and like yogurt, berries and granola. I also love pork, fried chicken, gummy bears and grilled cheese. Overall, I like comfort food.