At Innovative Foods, our mission is to provide safe, wholesome, high-quality meat products and by-products from humanely raised livestock provided by local and regional family farms and ranches.
Innovative Foods is a USDA inspected, custom meat processing facility. They strive to be the best in the business, with their highest priorities being quality products and excellent customer service. And, of course, they follow a strict HACCP program, to ensure the safety of the product leaving this facility.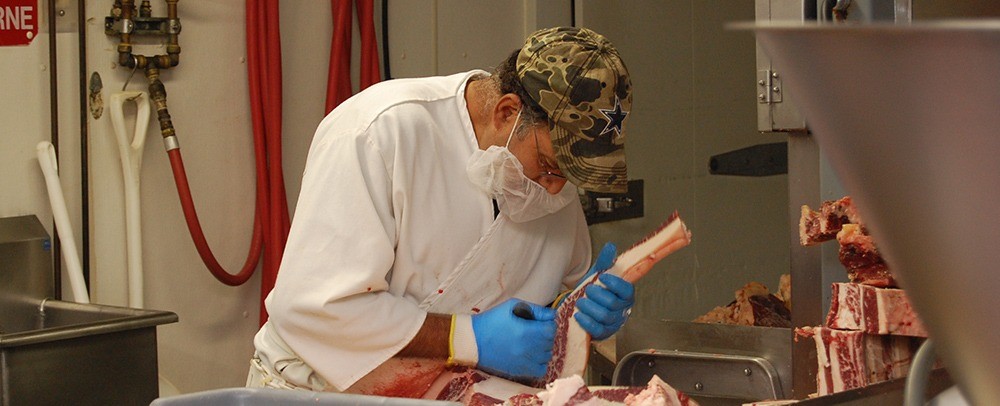 Custom Small Producer Processing
Innovative Foods offers producers vacuum sealing and labeling of beef, pork, lamb, and goat. Their trained and experienced processing crew custom cuts private label items, as well as meat for home use and restaurant service. Their on-site USDA inspector makes daily rounds of the plant to ensure they meet all cleanliness and safety standards.

Harvest, Processing, & Packaging
The harvest floor at Innovative is state-of-the-art for beef, pork, lambs, and goats. The facility is audited and certified by an outside third party for our humane handling practices.
Innovative Foods is also USDA inspected on the processing floor.  Adding an extra layer of inspection helps ensure the highest quality in the processing of each order.  Customer service is always a top priority and they always cut to exacting specifications and needs.  Innovative strives to give great personalized service through all steps of the process.
All meat is Vac Packed in clear 3 mil plastic bags, with all the air removed. Each bag is sealed using a commercial vacuum sealer.