by Linnea Covington
The first time I walked onto Buckner Family Farm in Longmont I was greeted by a procession of adorable dogs, each bigger than the one before it. Finally, I settled next to the two-foot-tall Sirtlan, a hound from Turkey that Clint Buckner procured to help protect his animals, from the pigs in shady mud holes to the sheep wandering the fields to the free-range chickens pecking around the ground. 
"I love it," says Clint as he shows off the roomy furrows the mama and baby pigs are frolicking in. "There is never a dull moment and you constantly have something to do."
It's certainly busy, but there's an ease and calmness about the farm as Clint and his animals go about their business. And, says the rancher who lives in a house in the middle of it all with his wife and two kids, animals who are happy and relaxed not only have a better life, but they taste better in the end too.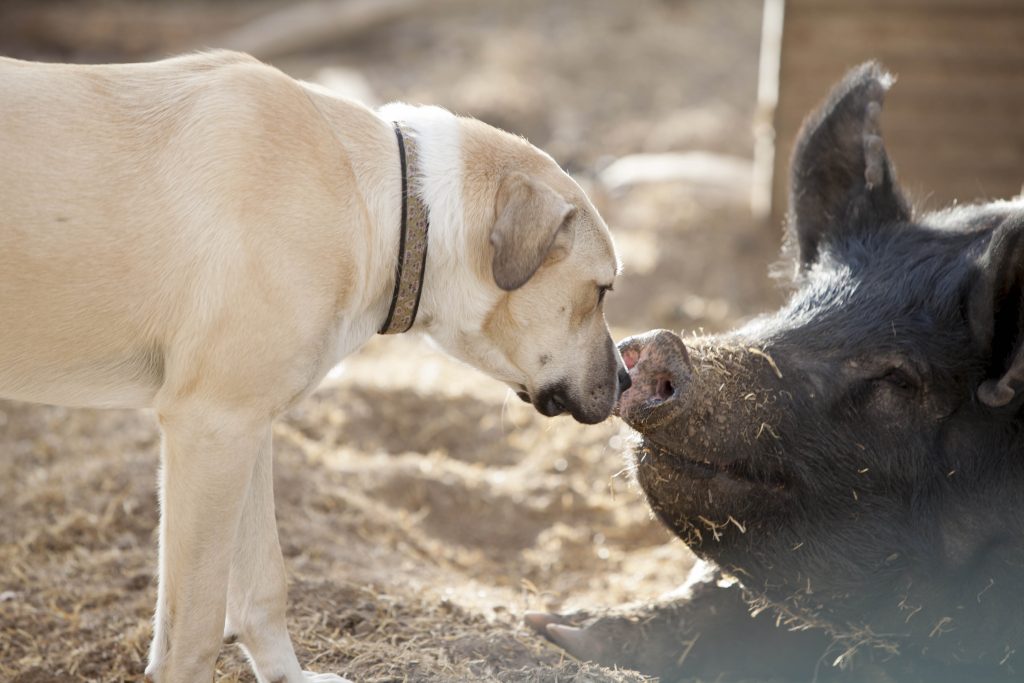 Right now Buckner Family Farm raises pastured sheep and hogs, three breeds that include Hampshire, Berkshire, and Yorkshire, which also get crossbred. The farm also sells beef from Clint's neighbor, a rancher who lets the short horn cattle roam and are completely grass fed on 850 acres right next to the Buckners' land. All the animals eat good food, grazing on the natural grasses and whatever else is tasty and growing wild. No pesticides are used on any of the lots the Buckners own or lease, ensuring that the creatures that reside there get the purest nutrients possible. 
"It takes almost 24 months to get a grass-fed steer to market," says Clint, who is dedicated to keeping his ranching practices as pure and chemical-free as possible. "It's a slower process, but it's all natural."
The meat coming from this farm proves so good, when Clint first brought it around to local restaurants such as Frasca Food & Wine, The Kitchen American Bistro and The Greenbriar Inn, they immediately took to it. The business was bloomed. At the time Clint was only doing lamb, but as chefs continued to buy the meat they also requested pork and beef. So, he decided to grow the farm and start raising and working with more livestock. 
"We never advertised, the same chefs would buy from us and then take us with them when they moved to a new restaurant," says Clint. "Naturally we grew, but very slowly."
Over the last eight years business had been going well, but then the pandemic hit and as restaurants were forced to close in mid-March they also had to cancel orders and put accounts on hold. Unlucky for so many, but this turn of events is what brought Buckner Family Farm to Locavore Delivery, and that's why customers are able to enjoy pastured pork chops, grass-fed chuck roasts and some of the best pastured lamb meat you can get in Colorado.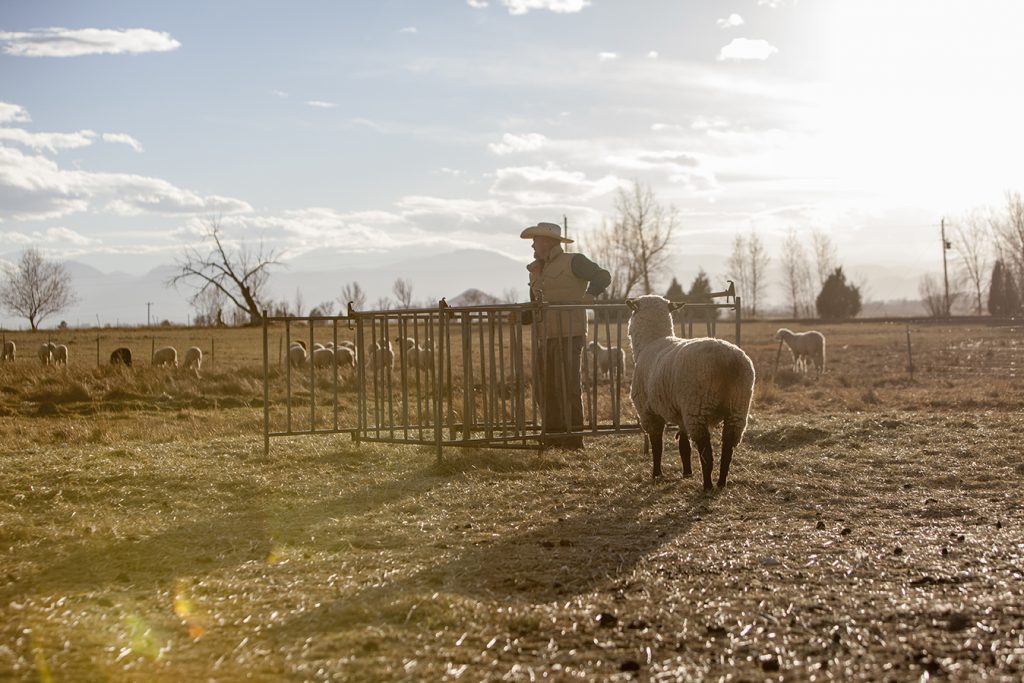 "People do complain about pricing," says Clint, whose products run a large gamut of prices from $13.75 for a pound of ground lamb to $55 for four to five pounds of grass-fed beef short rib to $9 for a pound of Italian sausage handmade from pasture-raised pork. He adds that if you factor in the benefits of regenerative agriculture and leaving a healthy environment to your kids, it's a worthwhile investment. Plus, it all goes back to just tasting better.
While many restaurants have opened up again, business is still slow, and Clint is happy to be part of the Locavore line up. Wholesale, he said, works well for his family's pace of life since it requires less of the non-animal work in the end, even if you don't make quite as much money. 
Not that every animal roaming Buckner Family Farm makes it into the curated boxes. A giant, magnificent white turkey with a blue head named Alfredo ambles along, an extra chick Clint found in a recent crate of baby chickens he picked up. Also found in the same bunch was a handful of ducklings, who also pal around the rainbow of different chickens and roosters, taking advantage of the peanut treats Clint, his family and the small staff hand out. All these birds are for show and eggs, and in the case of the turkey, a little wow factor.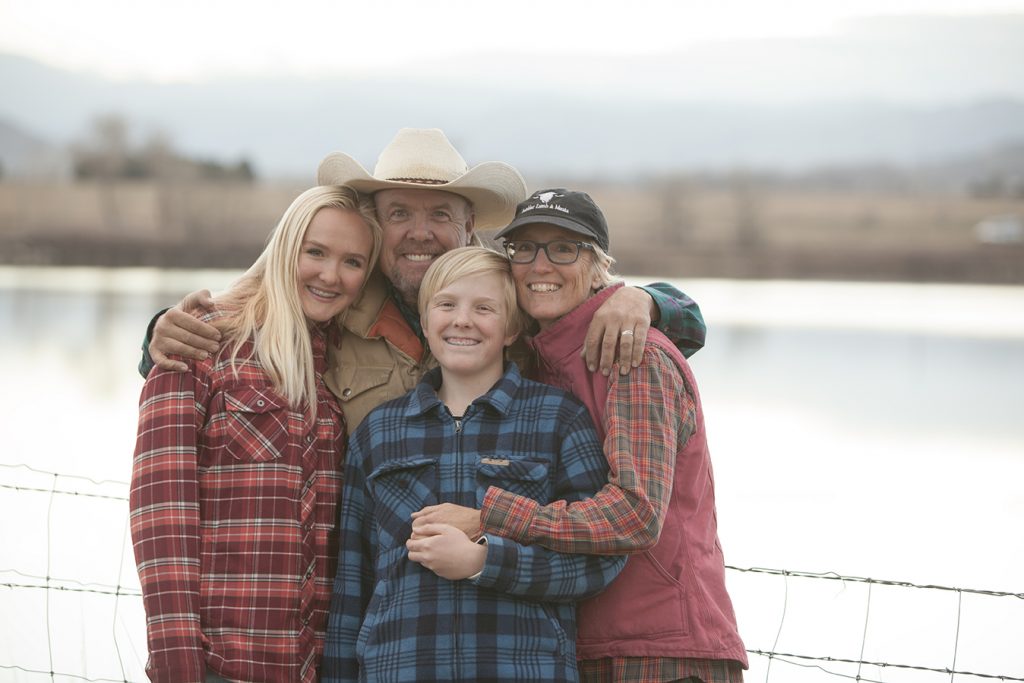 The life the Buckners have made for themselves proves just as special as their unique partnership with Locavore Delivery. Clint and MaryKay met in college in Boulder, he was studying sociology and she was a business major. They both worked at Alfalfa's grocery and had a fondness for real food that's grown and raised in the best and most natural way. 
Ranching and farming, says Clint, was in his blood from the get-go. His family had held a sheep ranch for generations, but his mother and uncles sold the property and moved to California. Eventually, his mother made her way to Colorado, where Clint grew up. Though he ended up doing a lot of other jobs, there was always a feeling that he wanted to get back into the family business. So in 2011 he and MaryKay broke the 45-year family ranching hiatus and bought the property to raise lambs.
"We just decided we were going to do it," says Clint. "Originally we wanted to do it for sheep's milk and wool, but then we decided to make more of a business out of it." 
Slowly the farm has grown to the menagerie it is today thanks to the aforementioned support from the local chef community. Find out why so many top cooks love this meat while also getting a taste of what Buckner Family Farm is all about by ordering one of the many options we provide. This includes many items, from curated meat boxes to ground beef bundles to spare ribs to leg of lamb, and so much more. 
Check out current Buckner Family Farm offerings HERE.