Make brunch sing with home-made cured salmon. Gravlax is similar to lox in that it's fresh fish cured in salt, sugar and herbs. Try making your own using Alaska Direct's wild-caught sockeye salmon and bring the breakfast menu to a whole new level.
Ingredients:
3 to 4 pound salmon side
1/2 cup kosher salt
1/4 cup white sugar
2 tablespoons fresh dill, chopped
1 teaspoon whole caraway seed
1 teaspoon fresh ground black pepper
Directions:
1. Remove pin bones from fish, then rinse the salmon and dry it.
2. If the fish is thicker than a 1/2 inch, score the skin side with a sharp knife about five times to allow the cure to penetrate better and evenly.
3. Combine all spices and mix.
4. Lay out two layers of plastic wrap on your work surface. Make sure it's big enough to wrap the whole fish in.
5. Sprinkle spice mix in the middle of the plastic wrap until it's about a 1/8-inch thick and roughly the size and shape of the piece of fish.
6. Place the fish on top of the cure, skin side down. Sprinkle the rest of the salt rub over the fish and then securely wrap with the plastic.
7. Place the salt-wrapped fish on a flat tray and cover with another heavy object; a plastic storage container filled with water works great.
8. Store fish, with the weight, in fridge, turning the filet over once or twice a day.
9. It takes 36 hours for a small, 1 to 2 pound filet to cure and about three days for a 3 to 4 pound fillet.
10. Once cured, unwrap fish, rinse off the rub and pat the clean and dried fish with olive oil to prevent it from drying out. Slice on demand and keep wrapped and in the fridge when storing.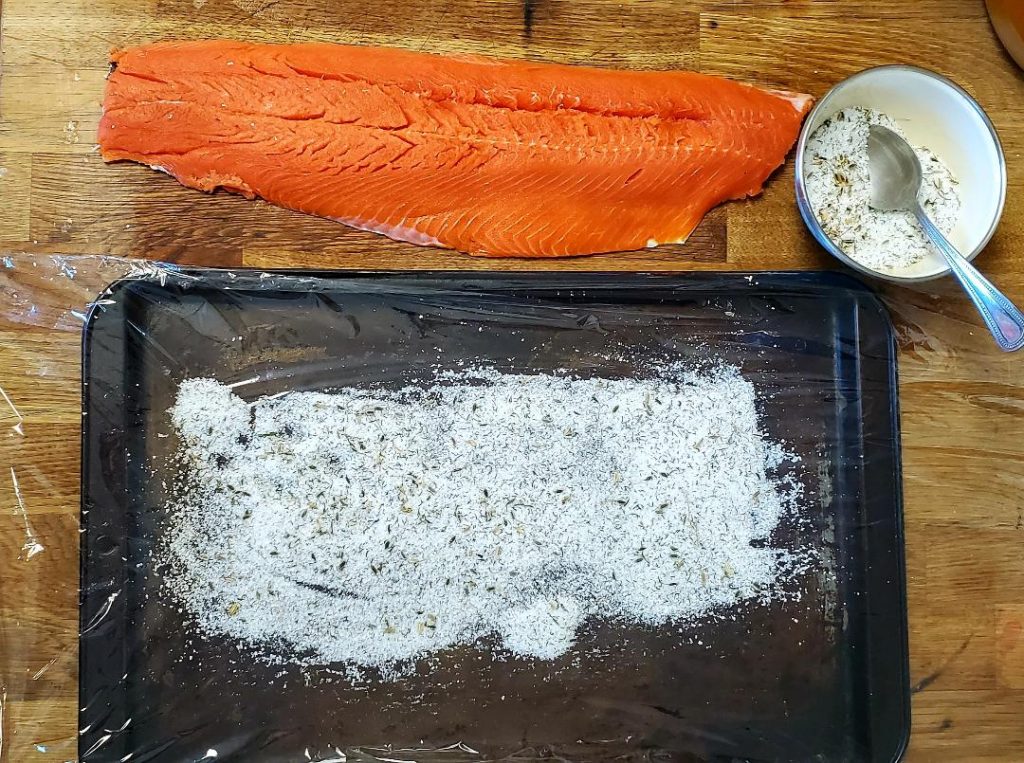 Fun Facts: Lox
Lox originated in Scandinavia where fisherman first made it as a way to preserve fish in saltwater.
Bagels with lox first came together in New York City sometime before the 1950s.
This is not a cooked food, it's raw salmon cured in salt and sugar.
Gravlax speaks to the Nordic way of serving cured salmon as an appetizer and lox is made for topping bagels, though both are made the same way.