The Porchetta roast is the holy grail of pork, a pork tenderloin wrapped in pork belly. When unrolled, you will see that it is all one piece! The Porchetta roast Locavore subscribers received is from a pasture raised, heritage breed hog. We just loved the way it turned out and wanted to share the recipe with you.
Cooking one is super easy, and your guests will be impressed.  We made one like this:
What You Will Need:
Heritage Breed Porchetta Roast- 4-5 pounds
Roasting pan
2-3 each of oranges, limes, and lemons
Coarse salt
Cider vinegar (optional, but yummy)
Agave syrup or honey
Savory Barrier Reef Caribbean Seasoning, 1 oz.
3-4 ft of butcher twine
Foil
Cook Time:
4-7 hours (at least 4 hours required, after that, things just get more tender)
Let's Get Started: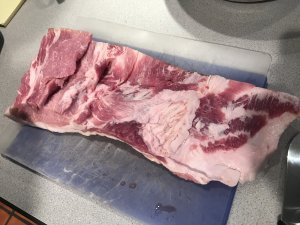 First, we unrolled the thawed roast. Yum. You will notice the tenderloin at one end of the sheet of meat.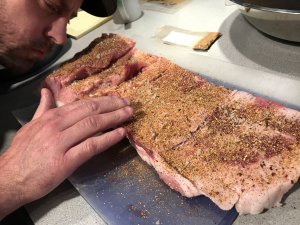 Then, we liberally applied the seasoning and some coarse salt.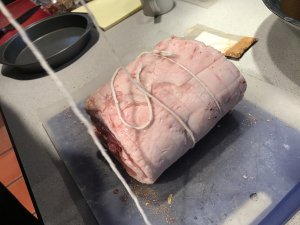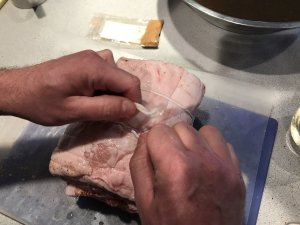 Then we re-rolled the roast, so the tenderloin was in the center and tied it every few inches with butcher twine.Once this step was complete, we broiled it on high until the top of the roast got crispy. Then, we removed it from the oven.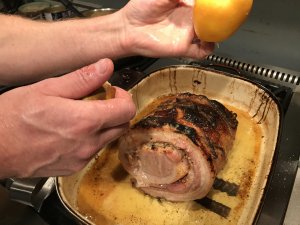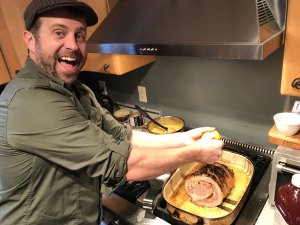 Squeeze the citrus and add some coarse salt over the roast, throw a cup of cider vinegar in the pan and loosely cover the roast with foil, it will need a little space to vent- then return to the oven at 325 for at least 3 more hours- if you plan on cooking it for longer, turn the temp down to 250 after a few hours. There is a lot of latitude for experimentation here- the Porchetta is very fatty and is therefore very forgiving in terms of cooking requirements. Have fun with it.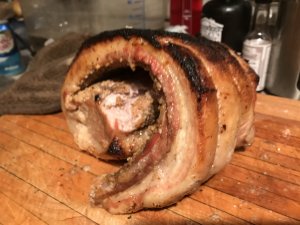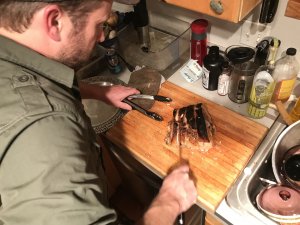 About 30 minutes before you are going to eat, remove the foil, rub some honey or agave on top of the roast and re-broil it until it gets crispy again (about 10 minutes on high), then remove it from the oven to rest for about 20 minutes before slicing it up.
Enjoy!